How can you help? You can help in three ways.
1st: If you see missing information, fill it in!
2nd: If you see something that's not correct, post your correction on the article's talk page so we can verify it before changing what's here.
3rd: Spread the word about this wiki, so others can benefit from this information source.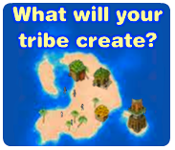 The most important part of My Tribe is selecting your Island.
How to choose your Island
At the start of a new profile, a random island will be chosen by default. You can view other islands by either clicking the Previous and Next arrows or by selecting Advanced Options, entering an island number, and then hitting View. Once you have chosen an island, click the Choose this Island! button to get started.
Things to remember
Consider:
The Island layout - Do you want a larger (easier) island, or a smaller/multiple islet island (harder)?

The Mysterious Objects - Each island only has 3 mysteries to solve. Choose wisely.

The Amount of Resources available - Check the quantity of rocks and trees. Are they adequate for your goals? (Keep in mind that you can plant more trees)
There is one important thing to note about the Mysterious Objects. There are 9 different mysteries in all, but only 3 per island. Your tribe will have to move to other islands to solve them all.


Four of the mysteries appear on the sandy areas of an island: Iron Oxide Monolith, Celestial Starstone, Celestial Moonstone, and Ancient Stone.
The other four appear on the grassy areas of an island: Children's Moai, Cornucopia Bush, Fountain of Youth, and Tree Stump. Each island will have one sand mystery and one grass mystery, and the third can be either. So you can't find an island with, for example, Children's Moai, Cornucopia Bush AND Fountain of Youth, as all 3 are grass mysteries and there must be at least one sand mystery per island.
Island Numbers
There are many, many islands to choose from. If you're looking for something specific, here are some island numbers you can try, arranged by the mysteries available on those islands.
Two Grass Mysteries + One Sand Mystery
Two Sand Mysteries + One Grass Mystery
New Island
How to get there:
Click on your Ark
Accept the options to sail [ONCE CLICKED YOU CANNOT DECLINE]
Scroll through the process of choosing your new island (like you did when you first started playing).
Once you have chosen your island, you are basically back where you started
What is there?
You have a new island apart from a kitchen, trees, rocks and 3 mysteries you have chosen.
Everything is lost and you cannot return to your old island.
All your previous resources will be there (Food, wood, rock, supplies, science points)
You have to rebuild everything!